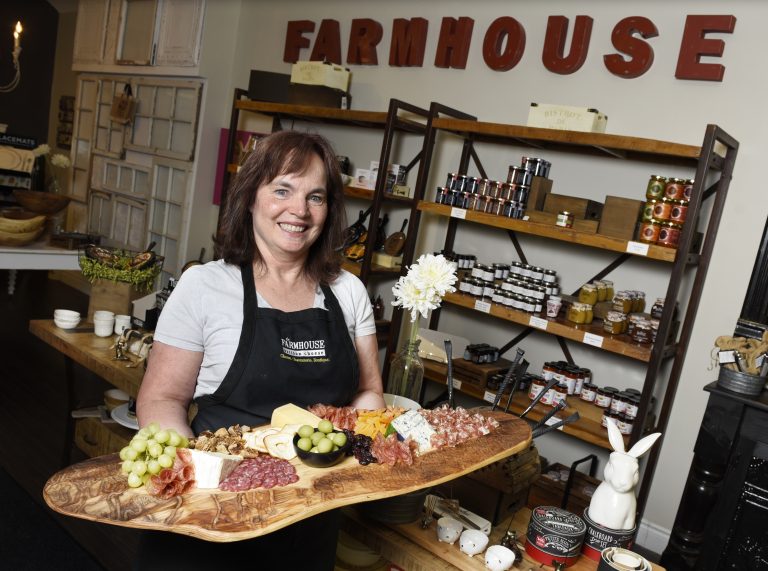 19 September 2020
In
News
Farmhouse Artisan Cheese Shares the Art of the Charcuterie
By: Amanda Lee | West of the City
If anyone knows how to put together a charcuterie board so mouth-watering it could double as dinner, it's Chris Wood, owner of Farmhouse Artisan Cheese in Oakville. Wood's love of food began when she was young. "I grew up in a food-loving family," she says. Wood still recalls trips from her childhood home in Lorne Park, Mississauga to St. Lawrence Market where colourful vendors would shout out their prices, a scene reminiscent of a European market.
Wood shared with us how to put together your own classic charcuterie board at home. "It's about choosing contrasting textures and flavours," she says. For the owner of Farmhouse Artisan Cheese, this starts with a classic triple cream brie sourced from France. "When it comes to room temperature, you can spread it like butter," she explains.
To complement the brie, Wood adds Blue d'Élizabeth, a blue cheese that won the best blue in Canada two years in a row. "It's a nice strong blue, but it also has a creamy texture," explains Wood. "It's salty and peppery." She sources the product directly from the cheesemaker, Fromagerie du Presbytère, who converted an old presbytery into a fromagerie in central Quebec. "It's a treat to meet the cheesemaker and know where your produce is coming from," she adds. Deviating from the more predictable cheddar, Wood chooses Picobello, a Gouda-style cheese from the Netherlands with an Italian twist. "With this cheese, you get the full flavour of Gouda, but at the backend, you get a hint of sweetness," she adds.
Another essential aspect of charcuterie is cured meat. Woods has selected a locally-made Capello?? from Niagara region, Hungarian salami from Wagner's Meat in Toronto, and a classic French Saucisson Sec produced without hormones outside of Ottawa. "Again, we try to support local," she adds. Wood rounds out the spread with fresh grapes, Italian olives, along with dried apricots, cranberries, and figs, along with another local product: dried pears with a hint of ginger. The fruit is grown on a family farm in Burlington, Ont., where they've been growing pears on the land for 200 years.
When it comes to putting together a charcuterie board, there are no hard-and-fast rules. Except, Wood suggests you let your cheese come to room temperature before enjoying it. "That's when you'll get the full flavour, otherwise, it might be muted," she explains. In addition to contrasting between soft and hard cheeses, Wood recommends mixing the kinds of milk used to make each cheese. "So, choose cheese from cow's milk, sheep's milk, goat's milk or water buffalo," she suggests. Farmhouse Artisan Cheese stocks fresh buffalo mozzarella direct from Italy, as well as Burrata, which is perfect served with seasonal tomatoes, fresh basil, and quality balsamic. Another culinary experience is serving a flight of the same type of cheese. Wood has seen this done effectively with blue cheese, laying out a flight of blue from mildest to strongest. With so many varieties and flavour combinations available, she also recommends trying a flight of cheddar cheese.
When it comes to serving, presentation is everything. Traditionally, charcuterie is served on a wooden board. Farmhouse Artisan Cheese stocks a range of wooden planks, some of which could double as a work of art. Wood shows her most recent acquisition, an exquisite five-foot feasting board carved from a tree in Oakville. "You need the space to show it off," she explains. "You can hang it on the wall and take it down when you want to use it."
All that's left to do is invite over family and friends and open a bottle of wine. As Wood says, "Food is comfort."
Source: Westofthecity.com